Winter Olympics: Athletes & Mental Health
The 2022 Winter Olympics have become an unexpected front in the global conversation about mental health, and specifically the mental health of Olympic athletes. It's a continuation of a conversation that was front and center at the postponed summer 2020 Games. In most cases, it is the athletes themselves who have turned a spotlight on the potential negative effects of sports on mental health. Tennis star Naomi Osaka and swimming legend Michael Phelps have both talked openly about the darker side of being an elite athlete. Also looming over this conversation is the impact on the Olympics of the sexual assault allegations made by tennis player Peng Shuai against a member of China's politburo.
As spectators, we may tend to view athletes only through the lens of their physical prowess, but gymnast Simone Biles and several others have reminded us that they're more than just that.
Leading up to Beijing 2022, Essentially Sports reports, the US Olympic and Paralympic Committee announced they were taking steps to help athletes with mental health struggles at this year's Winter Games. Simone Biles' famous withdrawal from events at the Tokyo Olympics followed several episodes that showed how Olympic athletes can struggle with emotional wellness. As spectators, we may tend to view athletes only through the lens of their physical prowess, but Biles and several others have reminded us that they're more than just that.
Michael Phelps and Depression
Olympian Michael Phelps' struggles with substance use and depression made global headlines (along with an unflattering 2008 picture of him with a bong) and threw the spotlight on the mental health struggles of Olympians, and on the pressures of sport in general. He recalls a bout of severe, crippling depression after the 2012 games in an interview reported by CNN. He entered treatment and began to recover. Post-treatment and post-athletic career, he's become driven to help others.
His Michael Phelps Foundation created an "emotional wellness" curriculum that was picked up by Boys & Girls Clubs and the Special Olympics; the foundation also partnered with HBO for The Weight of Gold, a documentary about the mental health of Olympic athletes. The film features Phelps along with a number of high-profile Olympians, including Shaun White, Lolo Jones, and Bode Miller. Phelps has also recently become the face of an online behavioral health treatment app.
Naomi Osaka and Anxiety
Tennis champion Naomi Osaka, who famously refused to do post-game press at the 2021 French Open and ultimately withdrew from the tournament, revealed her own struggles with emotional wellness and some of the unnecessary pressures that accompany sports achievements. The New York Post shared her tweets about the anxiety she felt leading up to the event, confessing to "suffering long bouts of depression since the US Open in 2018," following a controversial match with Serena Williams. Tired of being required to participate in press interviews and publicity that she was clearly uncomfortable with and were taxing to her mental health, she stepped away from the sport altogether and wondered aloud in interviews if she would return. Now back, she says she's "feeling more comfortable in my own skin."
Peng Shuai and Sexual Abuse
Chinese tennis player Peng Shuai is the latest to make headlines after her Chinese social media post alleged sexual assault and manipulation by a top Chinese government official. Her case became one of a number of reported widespread human rights violations that led many countries, including the US, to a diplomatic boycott of the 2022 Winter Olympics. Her post was quickly taken down, and she disappeared for several weeks, recounts The Cut.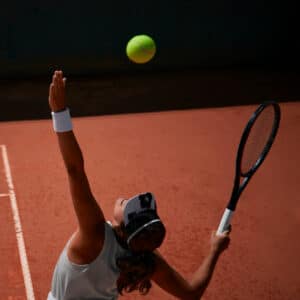 The latest on Shuai is murky: She's made several calls to Women's Tennis Association (WTA) officials, but was with a Chinese handler when she did so, yielding more questions than answers. The WTA responded forcefully to Peng's disappearance and China's handling of it by canceling all of its tournaments in China, at a significant cost to the organization. After some seemingly-staged public appearances, she surfaced during the Beijing Games, even doing her first interview with an independent international news source, but the conversation happened under the watchful gaze of a Chinese Olympic official.
Fallout from the strange case continued at the recent Australian Open, as "Where is Peng Shuai?" shirts started popping up. Tennis Australia originally banned the shirts, going as far as to force T-shirt wearers to take them off at the tournament. But after an embarrassing backlash, they reversed their decision and allowed the shirts. While that doesn't solve the mystery surrounding her situation, it does keep the world's attention on it.
"I'm a Human Being"
Phelps' post-retirement comments, recorded by Time, are a reminder of the humanness of even the world's highest-achieving competitors. "For me, I know there are probably a lot of people out in the world who are struggling the same exact way I do still struggle and have struggled — I'm a human being. But I was so used to compartmentalizing everything," says Phelps.
"Being an athlete, I'm supposed to be this strong person who doesn't have any weaknesses, doesn't have any problems. No, that's wrong."

— 23-time Olympic Gold Medalist Michael Phelps
"Being an athlete, I'm supposed to be this strong person who doesn't have any weaknesses, doesn't have any problems. No, that's wrong," Phelps continues. "I struggle through problems just like everybody else does. I wanted to open up and just talk about it. It is what makes me who I am."
No amount of professional success can shield you from the pressures of everyday life, in fact, high-stress careers can add pressure. And you don't need to be an elite athlete to struggle. If you feel like it's finally time to address your mental health, our highly trained specialists at Willow House will guide you through the process so you can begin taking steps toward healing and wellness. Reach out today to learn more.