Domestic Violence Series: How Recovery Works
December 8, 2021
Breaking free from domestic violence — from an abusive, controlling, self-esteem-killing relationship — is one of the most heroic acts of self-care an abuse victim can take. Why? Because it requires courage in a time when the victim is most vulnerable. This is when she feels weakest and least capable of courage, when the fear of leaving feels overwhelming.
But it is exactly in this season when courage and determination can rise. When you know the risks of staying are too great, you have choices. You have a voice. You can find the strength and determination to take back your life.
Baby Steps Out
Maybe you're just beginning to get ready. Wherever you are in the process, you can start by taking some baby steps of self-care to prepare yourself for the bigger steps. A domestic violence handbook created by the Idaho Coalition Against Sexual & Domestic Violence offers some simple, daily tools to help you begin:
Kindness – Be compassionate with yourself.
Rest – Try to sleep 6 to 8 hours each night.
Breathe – Practice breathing deeply. Low and slow.
Water – Stay hydrated throughout the day.
Support – Spend time with supportive family members and friends who accept you and make you happy.
Spaciousness – Take five minutes a day to do something restorative for yourself: a short walk, a quiet moment, a cup of tea, etc.
As you incorporate self-care into your daily routine, you can begin to look toward a future without physical, sexual, emotional, financial, or spiritual abuse.
As you incorporate self-care into your daily routine, you can begin to look toward a future without physical, sexual, emotional, financial, or spiritual abuse. The types of abuse are varied, but it's not all in your head. It is real. And it is time to make a plan.
Safety Plan
Leaving an abusive relationship takes financial resources, ongoing support, and a strategic plan that most abuse victims either don't have or don't believe they have. But there is help and hope to be found. You just have to be able to think clearly and devise your plan.
A safety plan is simply a set of actions you put in place to get the help you need and to increase your security where you are right now and in the places you go on a daily basis.
The road to healing is multifaceted, requiring time and patience and the hard work of recovery.
The National Domestic Violence Hotline provides an online form that asks important questions which help abused partners think through all the possible exit scenarios while formulating their safety plan. The approach includes listing items you will need to take with you when you leave and gathering emergency numbers to keep with you at all times. It helps you identify your circle of support and think about strategic questions that are essential for an emergency exit. Questions like:
What word or phrase could you use as code in a conversation, text, or instant message as a call for help without your partner knowing?
If you need to leave home in an emergency, where is a safe, public place you could go?
If you need to leave work or school immediately, who could you call to pick you up or meet you?
Who could you call or text to let them know where you are going with your partner?
If you decide to end your relationship, where could you do it safely?
By thinking through these questions and safety planning upfront, you begin to shine light on and see the path ahead. This gives you some solid tools to make a plan. You can do this. Are you ready?
Stages of Healing
Once you break free from an abusive relationship, the residual effects of the abuse don't simply go away. The road to healing is multifaceted, requiring time and patience and the hard work of recovery. PsychCentral lays out a blueprint of what healing from domestic violence can look like in the following seven steps: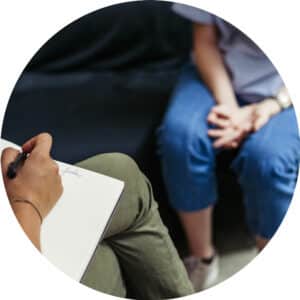 1. Safety First: Understanding that the reality of being safe (away from your abuser) and feeling safe are not the same.
2. Stable Environment: A period of rest and adjustment to the new normal is needed before real therapeutic work can begin.
3. Support Unconditionally: Not everyone will understand the range of emotion that comes with abuse trauma; victims need unconditional, unwavering support.
4. Share Experiences: Abuse feels isolating, personal, shameful, and degrading. Engaging with other survivors helps you understand you're not alone.
5. Settle Incidents: Most abuse victims don't grasp the extent of their abuse until they unpack it, which is difficult but essential in healing.
6. Stitch Wounds: To fully understand the abuse requires rewriting your internal script, the way you rationalized the abuse to yourself.
7. Set Standards: This is when you begin to discover and set boundaries of acceptable behavior: how you deserve and expect to be treated by others.
You will need a community of support, people who understand where you've been, the types of abuse you've suffered, and what the road back looks like. You're going to need a place where you can be reminded that you're safe and that your voice has power.
"It's such a powerful experience, just being in a place where you can relate to everyone and getting that support," says Havi Kang, Clinical Director of Willow House at The Meadows on a recent Beyond Theory podcast. "I've heard so many times from women [that] just getting outside of where they live — like the stressors that they deal with day-to-day, being able to be away from that for a few weeks — even that is life-changing … especially [for] women who have felt like they are able to speak up. [Willow House is] definitely that place where we can give them that voice and have them share their truth, be validated, [and] be cared for."
Here to Help
Willow House at The Meadows creates a safe place for domestic abuse victims to open up about their stories, find validation for their experiences, and explore what recovery is going to look like. If you or a loved one are in need of immediate help, the domestic abuse hotline is free, confidential, and accessible 24/7. The time for recovery and healing is now. Now that you've found the courage to break free, let us help you find the healing you deserve.